Call MRK Electrical Contractors – Day or Night 817-401-7841
Thermo Imaging
Industrial Commercial Thermo Imaging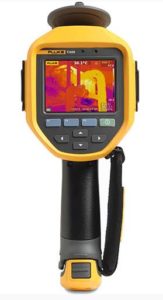 Infrared tomography is used to perform Preventative and Predictive Maintenance inspections on electrical equipment because excess resistance on electrical apparatus indicates electrical faults such as loose connections, overloaded or imbalanced circuits, faulty breakers, damaged switches, faulty fuses and a wide range of other unwanted electrical conditions. Before an electrical component burns up, it heats up. Tomography is used to see the excess heat (resistance) so that problems can be found and maintenance personnel can act to correct the problem before the component fails, causing equipment damage, safety hazards and production downtime. 
We use the top of the line Fluke TI400 Industrial Commercial Thermal Imaging Camera. 
We offer 3 possible plans that you can choose from. 
Tier 1  – Our technician will scan all panel board for issues,  a problem report will be provided to the customer, including images of the problem areas.  
Tier 2 – This will include the Tier 1 along with transformers, and will include the reports along with all the images of all panels and transformers not just the problem issues. This is provided to the customers for review of potential future buyers of the property.
Tier 3 – This will include the Tier 1 and 2 along with cleaning the and vacuuming the panel boards, replacement of code validation issues bring the building up to code so that it will pass the building fire inspection. 
The Tier 2 and 3 also comes with a complete online report that can be reviewed at anytime even a later date complete with all the pictures. This will help with the Minimum Asset Property Management Risk report.
What should be checked by our Certified Technician. 
Utility substations, transformers and feed poles
Main incoming services, plant main knives, capacitor banks, etc
Main switchboards and disconnects
Main distribution panels and main disconnects
Uninterruptible power supplies
Generator controls and transfer switches
Main I-Line panels
Lighting and receptacle panels
Disconnects and combination starters
Service disconnects for motors
Machine control panels