Call MRK Electrical Contractors – Day or Night 817-401-7841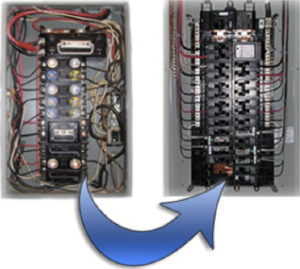 If you think about your home like the human body, the electrical system is the circulatory system. Just like the heart regulates the blood pumping throughout the body, the electrical panel regulates the electricity coursing through the home. If too much electricity is demanded on a circuit, a "breaker" is tripped in the electrical panel to stop the electricity from overloading the wiring. An overload can cause a fire or smoke damage. So it's the job of the electrical panel to break the circuit and regulate the electricity in the system to keep your home and family safe.
Unfortunately, as homes get older the electrical panel could have a hard time keeping up with the increased electrical demands on the system. Our appliances, televisions, computers, HVAC systems, lights and other electrical gadgets are more energy efficient, so electricity hogging is not the issue. The problem is that we have so many more gadgets in our homes than ever before that all need electricity at the same time. If your home is more than 10 years old, it may not be able to keep up with the electrical demand. How do you know for sure?